Following your reading and understanding of compression socks, the next step is choosing the right pair. Nevertheless, this is confusing, and you will not be able to determine what is right for you if you don't understand the sizes and compression levels.

In order to measure compression stockings, you have to know their size, which can be tricky. The measurements will differ depending on the brand, the size, and other factors. The purpose of this article is to help clear up all the confusion and ensure a proper measurement process.

The following article contains several steps that detail compression sock sizing. Let's start by understanding the level of compression a bit more in-depth. Afterward, it will determine the most appropriate pair and which size to choose.

In addition, we will discuss detailed compression measuring guides, why it is important to take measurements, and some confusions that may arise.
---
---
What Do Compression Levels Mean?
One of the most complicated parts of buying the right pair of socks is to know the compression levels. Compression socks and stockings have a wide range of numbers stating how much-advanced compression the fabric contains.
The standard compression levels for these socks are 8 to 15 mm-Hg (everyday use), 15 to 20 mmHg (over the counter), 20 to 30 mmHg (medical class 1), 30 to 40 mmHg (medical class 2), and 40 to 50 mmHg (medical class 3). During the process, you might come across other compression levels, but these are standardized and the most common ones.
So, which is the right one for you? Keep scrolling down to find out.
8-15 mmHg (Mild Compression – Low Tension)
Offers extremely light compression. It is more suitable for minor or occasional swelling. It can also help if you spend most of your time on your feet.
Conditions That Need 8-15 mmHg:
Aching Legs
Heavy Legs – minor
Maintain Leg Health
Swelling – minor
Tired Legs – minor
15-20 mmHg (Moderate Compression – Medium Tension)
It also offers light compression and is well-suited for minor and occasional swelling. This is the most recommended range to reduce swelling and prevent blood clots while traveling. In addition, this compression level is often recommended during pregnancy as it helps to prevent edema.
Conditions That Need 15-20 mmHg:
Aching Legs
Economy Class Syndrome
Edema – mild
Ehlers-Danios Syndrome (EDS)
Heavy Legs – mild
Pregnancy
Swelling – mild
Spider Veins
Tired Legs – mild
Varicose Veins – mild
20-30 mmHg (Moderate Compression – High Tension)
If you frequently experience swelling on your legs or feet at the end of the day, this is the perfect range for you. It is effective for severe aching and tired legs. Doctors also recommend this range to treat moderate edema from pregnancy, varicose veins, and other disorders.
30-40 mmHg (Firm Compression – Extra High Tension)
If you are suffering from severe swelling or your feet suffer extreme swelling at the end of the day, or the compression range of 20-30 mmHg is not working for you, it's time to move on to 30-40 mmHg range. This compression range is effective against severe varicose veins and swelling.
40-50 mmHg (Extra Firm Compression – Maximum Tension)
It is the firmest compression level. And we will advise you to use this compression under your doctor's supervision.
Conditions that need compression level 40-50 mmHg
If prescribed by a doctor
Leveled as Class III.
How Tight Should Compression Stockings Be?
These socks have different compression levels that are shown in Millimeters of mercury (mmHg).
The socks should fit tightly, neither too tight nor too loose. However, if you feel any of the following, try a light compression level:
You feel pain in your legs, feet, or ankles.
You think that your skin is getting pinched from the socks.
You feel the cold in your legs or feet.
You notice that your skin is getting discolored.
As a general rule, if your socks and stockings are painfully tight, then choose a different size or compression level.
---
Measurement Guidelines for Compression Socks & Stockings?
Getting the perfect size for compression socks or stockings can be a bit tricky – but don't worry, we'll show you how to measure for compression socks!
Before we move on to the steps, remember that every brand of compression socks has its own unique sizing chart. For instance, medium size in one brand might not be a medium in another brand. So, it's essential to measure correctly and check the size chart for the product you need. This will ensure that you will get a pair that fits properly.
When and how to take the measurements?
Measurements should be taken as soon as you wake up in the morning.
The measurements can be obtained by using an inches tape/measuring tape, or by using thread and scale.
How to Measure for Compression Socks and Stockings? (A Step-by-Step Approach)
It's easy to measure for compression socks and stockings. You just need to measure a few spots on your legs. Follow the steps to get the measurements you need when ordering them.
What you need to get started:
You'll need a pen and notepad to take down your measurements
A tape measure
Write down the following points:
Ankle circumference
Calf circumference
Thigh circumference
Lower leg length, for knee high compression socks
Total leg length, for thigh high and pantyhose compression stockings
Shoe size
Height
Hip circumference, for pantyhose compression stockings
1) Ankle Measurement
Measure the smallest circumference around the ankle. This is right above the ankle bone. If you have to swell on your ankle, consider taking measurements in the morning when swelling is the least.
2) Calf Measurement
Measure the largest circumference around the calf. This is not necessarily in the middle of the calf. Depending on how the calf is shaped, you'll need to find where it's the largest.
3) Calf Length Measurement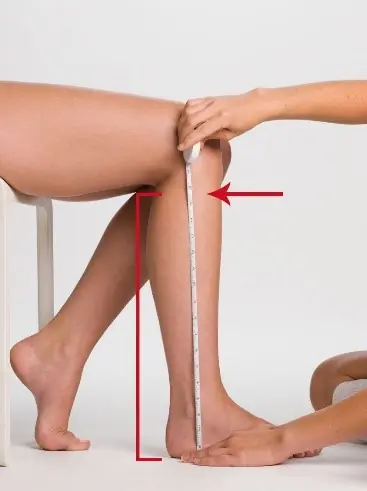 This measurement is the calf length for knee-high compression socks. It's best to take the calf-length measurement while sitting. From the floor, measure straight up and stop below the bend of the knee. See the picture for the red markings.
Do not measure up into the knee. That will give you a measurement that's too long. This is how high your compression socks should be when you wear them.
Write down your height.
Checking the calf-length measurement with your height is a good idea. For those 5′ 6″ and shorter, the calf length should not exceed 16 inches.
4) Thigh Measurement
The circumference of the thigh should be measured at the top of the thigh, below the fold of the buttock. This is where compression stockings end. This measurement is also used for pantyhose and waist-high compression stockings.
5) Leg Length Measurement
The leg length of pantyhose and thigh-high compression stockings is measured by this measurement. It is best to take the leg length measurement while standing up. Measure straight up from the floor and stop below the fold of the buttock. You can see the red markings in the picture.
A thigh-high compression stocking ends here. You may end up with a measurement that is too long if you measure too far up the hip.
Write down your Height
Double-checking the leg length measurement with your height is a good idea. Those who are 5′ 6″ or shorter should have a leg length that does not exceed 28 inches.
6) Hip Measurement
Measure the circumference around the hip when purchasing compression stockings. From the hip to the waist, pantyhose compression stockings feature a control top pantyhose style. Pantyhose Plus, with Queen sizing, is a decent alternative to control top waist pantyhose.
Now that you know how important it is to get the proper measurements in order to find the perfect pair of compression socks or stockings, let's check out some general sizing tips that will surely help you in the process.
Other Measuring Tips
Most people fit into the standard shoe size.
Measuring against bare skin is always recommended.
For minimal swelling, take the measurement as soon as possible.
To get the most accurate measurement, pull the tape tight without constriction.
It is best to measure lengths from the ground up.
To take measurements, the leg must be at a right angle to the foot and the foot flat on the floor.
Ankle measurement is the most critical measurement for medical-grade compression socks.
Take the measurement at the ankle if unsure of the size.
The footbed has plenty of stretch for a comfortable fit.
A Visual Guide On How To Measure For Compression Socks:
Check out this compression hosiery sizing guide infographic, you may find these infographics useful if you are uncertain about the measurements.


---
Compression Socks Size Chart
Here is a detailed compression size chart for women's compression socks as well as for men's and others that will help you determine the ideal size according to your requirements.
---
When To Consult Your Doctor?
We recommend you seek the advice of your doctor before selecting the compression level of your socks or stockings. Typically, light compression levels are preferred by most people over stronger compression levels. However, this depends on your overall condition and your needs.

We will also advise you to change your compression socks and stockings after every five or six months to maintain their proper size, shape, and compression level. Similarly, if you feel that your compression socks and stockings are getting loose, it's time to think about replacing them with a new pair.
---
Interested In Buying Compression Socks? Make The Right Choice With Our Detailed Buying Guides!
---
Frequently Asked Questions
How do I know what strength compression socks to get?
A pair of stockings should feel snug, but not painfully tight. Mild compression, with lower numbers, is usually enough to keep you comfortable on your feet at work. In order to prevent DVT, you need higher numbers and a firmer fit.
How many hours a day should you wear compression stockings?
Depending on your needs, you may choose to wear them all day (though you should take them off before bedtime), or just for a few hours at a time. Compression socks may be helpful for many people, but you should consult your doctor before using them.
What happens if your compression socks are too tight?
When the sock leaves a red circle around your leg on top of it, it means that it is too tight. In the case of lymphedema or venous reflux disease, your compression socks cause your legs to swell.
When should you not wear compression stockings?
It is not advisable for some patients to self-prescribe compression socks, says Dr. Ichinose. Those with peripheral vascular disease shouldn't wear compression socks, according to Dr. Friedman. The pressure provided by compression socks may worsen the ischemic disease.
What do the numbers mean on compression socks?
Socks with graduated compression are listed with a range of pressures. The sock top pressure is higher than the foot pressure in the range, while the foot pressure is lower
What are the side effects of compression stockings?
Irritation, itchiness, and redness are possible side effects. There is a possibility that compression socks may aggravate skin irritations as well as cause itching. An improperly fitted compression sock may cause temporary skin dents and redness on your legs at the sock's edge.
Can compression socks cause blood clots?
One of the main reasons to wear compression socks, according to Botek, is to help with blood flow when you sit for long periods, such as on a long flight. Because of less movement and weaker circulation, there is more blood pooling and retention in the legs, increasing the risk of clots.
Is there a trick to putting on compression socks?
When your skin is either too moist or too dry, talcum powder or cornstarch can be used to help compression socks slide on, place the sock over your toes, then work it up to your leg. Don't roll compression stockings up like socks before putting them on. Try turning them inside out either halfway or fully.
Is it bad if your socks leave indentations?
Sock marks are caused by pressure from the elastic. A sock mark becomes more noticeable if there is peripheral edema. The most common cause of peripheral edema is fluid being pulled into your legs by gravity. Edema is usually mild, temporary, and harmless
How long does it take for compression socks to reduce swelling?
It may take a few days of regular use to notice a reduction in swelling. Wear your compression garment first thing in the morning for best results. This is when your limbs are the least swollen. It can take up to six weeks to see any improvement in the appearance of your veins.
Is it okay to exercise while wearing compression stockings?
The answer is yes! As you exercise, wearing compression socks and stockings will help increase circulation in your legs, which will increase oxygen supply and recovery time for your muscles and tissues.
---
Conclusion
If you have any questions about compression sock sizes, we're confident that this guide has addressed them in a satisfactory manner. Make sure you have your measurements handy before you purchase compression stockings.
This guide should be viewed as a fundamental review, but it should not be considered a replacement for medical advice.
It is simply a valuable tool to facilitate your consultation with your doctor. When purchasing online, make sure that you are buying from a reputable company and that they offer customer service in case you have additional questions. Hopefully, this guide has been helpful and will help you benefit from the compression gear.
---